Canada is usually associated first and foremost with impressive scenery, endless open spaces, the Rocky Mountains and sometimes dangerous fauna. And of course, Canada offers all this – but much more! Especially the Canadian metropolises are definitely worth a trip, or two or three.
My personal favorite is Toronto. Probably because it was the first Canadian city I visited, and probably because you will encounter everything that is prototypically Canadian there in the first few meters. Read more about the topic here: https://www.thestar.com/news/canada.html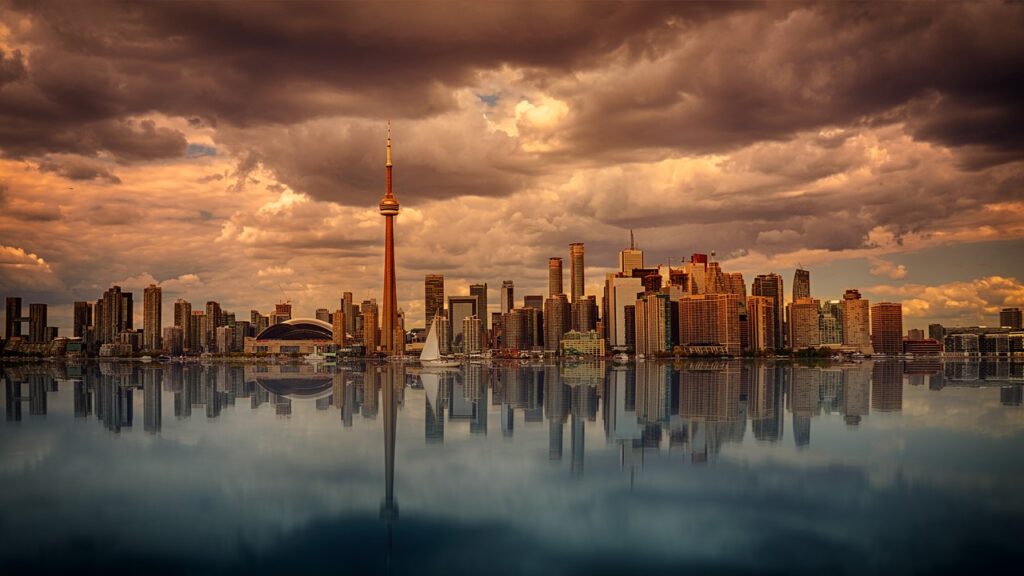 In a good mood in the morning? I'm in Toronto!
Canadians are considered friendly, tolerant and cosmopolitan. And they do everything to justify this impression. On my first morning in Toronto, I had hardly left the hotel, a complete stranger greeted me and wished me a nice day. Three corners further on, the exact same thing again. And then I realized that everyone, but really everyone, who met me that sunny morning on my long walk along the shores of Lake Ontario greeted me with a warm welcome, as if I were a long-lost cousin who had suddenly reappeared from nowhere. When I started to greet back, I noticed something completely banal, something that sometimes tends to be forgotten: Friendliness makes you feel good.
I can't remember ever having been in such a consistently good mood on a journey. And this is exactly how I met all the Canadians I had to deal with: cheerful, elated, cheerful.
Of course I am aware that this is probably not a statistically significant selection, and that somewhere in a sleepy nest in Alberta or Manitoba there may well be a bunch of grumpy Canadians, but based on my own personal travel experience, I think this is very unlikely.
Multiculture and culture in Toronto
That's a good start for a visit to Canada's largest city, or 'the Canadian New York'. In fact, the comparison is obvious: Toronto can certainly compete with New York in terms of cultural diversity. On my first exploratory walk through the city (and if you read my Munich Post, you know that I like to walk a lot and for a long time), I first ended up in Chinatown, then in Greektown and finally in Little Italy.
Toronto is one of the most multicultural cities in the world, but it is also the safest North American metropolis. The Greater Toronto Area is home to over 5 million people who speak over 140 languages and dialects and belong to around 200 different ethnic groups. Half of the population was not born in Canada. Now that's what I call melting pot, huh?
With so much cultural diversity, I was especially curious about the culinary offerings (eating is always especially exciting when traveling…), but of course the main sights should not be neglected.
Off to the sights in Toronto
As a very well-behaved tourist, I was the first to go to the CN Tower. It has two viewing platforms, one at 342 and one at 447 meters. The lower one is the one on which the average consumer usually cavorts and also the one with the famous glass floor. Only 6 meters thick bulletproof glass separates you from the free fall.
Those who do not want to look down, look out of the window and enjoy the view.
Once one has got an overview of how big the city actually is and where what is located, one can go back to normal zero and best go straight over to the Hockey Hall of Fame. An absolute must for every Canadian traveller, because the Canadian heart, as it is known, beats for ice hockey. Those who want to understand the Canadian as such, cannot avoid ice hockey. I, as an ardent DEG fan (and partner of a much more ardent DEG fan), naturally had that at the top of my to see list. And what can I tell you? It's worth it. Go for it! On almost 6000 square meters you can't stop being amazed. You can pick up a racket yourself and try to beat Wayne Gretzky. But, of course, the greatest thing is watching the Stanley Cup. …and the Hockey Hall of Fame does not spare superlatives:
Overshadowing all other championship trophies in sports, the legend and glory of the Stanley Cup continues to live in the dreams of hockey players and fans alike.
Stanley Cup winners can spend 24 hours with the trophy, after which it's back to the showcase.
Leaving the Hockey Hall of Fame, you can walk north along Yonge Street until you reach Queen Street, where you turn left until you reach the corner of Queen St. and University Ave. in front of the Campbell House Museum. Those who like can already make the first cultural stop here, the Campbell House Museum is one of the oldest buildings of the city and with its small but nice park complex clearly stands out from the office towers around it.
The Campbell House Museum regularly hosts relatively exciting events, such as theatre evenings, crime thriller dinners, lectures on the history of garlic, concerts, interactive tablet-walking tours and opera evenings. And these are really just a few examples.
Continuing on, we turn onto University Ave. and walk north to Dundas Street, where we turn left for our second cultural stop at the AGO, the Art Gallery of Ontario.
The AGO is already worth seeing from an architectural point of view, Barton Myers and Frank Gehry, among others, were allowed to let off steam here. But also the permanent exhibition with over 80,000 exhibits as well as the numerous special exhibitions, courses, installations, galas and and and are exciting and well done.
Because I'm a small bird of art, two museums are not enough, I go one better and walk up University Street again, past the University of Toronto (which is also very worth seeing and almost radiates a little Ivy League charm), over Queens Park Crescent to the Royal Ontario Museum, short ROM.
The ROM is one of the biggest North American museums and attracts more than one million visitors every year. If you are interested in ethnology and natural history, this is the place to be. The ROM also offers numerous special tours and activities for children. One of the most popular is the overnight stay in the museum including movie night ('Night in the Museum Part 1 & 2'). One adult may accompany up to 5 children from 5 years of age. If this is not something for family holiday planning!
If you don't like museums, you can stay outside and at least take a look at the very worth seeing extension by Daniel Libeskind.